Crap happens! Probably most days to be honest, at different levels.  And we humans get very caught up in that moment and feeling bad about what is happening.
Being mindful doesn't stop the crap from happening but it can help you learn how to dance in the rain.
Every day we wake up we are pre-conditioned from our Neolithic grandfathers to wake up with a feeling of doom.  It was from the days of our caveman times when we had to wake up with high alert in case the sabretooth tiger was loitering with intent.  So actually it is inbuilt in us to feel rubbish from when we first open our eyes….what we do with that feeling is then entirely our own experience at the mercy of our inner voice, thoughts and feelings.
The best way I can describe the power of mindfulness is learning that;
'We are not powerLESS to the way feel, the way we act and the way our day unfolds. 
We are in fact, very powerFULL as we have total control to achieve inner peace.'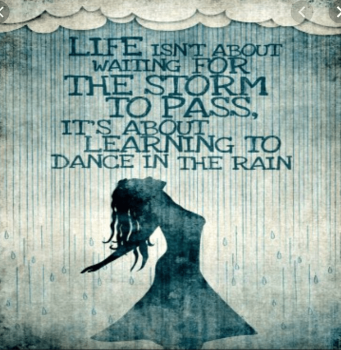 So it is about learning to have a healthy relationship with our mind as opposed to our sometimes learnt behaviour in which we are confined to small or negative thinking. 
So instead of looking outside at a rainy day and assuming it will be a bad day as it will stop us doing so much and will be so cold and inconvenient….we could just choose to go out in it just like a child would. 
We could dance, sing and just love and enjoy the miracle of nature's yin and yang, as after all it is what makes the world go around.  
So what you get from mindfulness is totally what you want to get from it, which is why it can be so powerful - so enjoy each moment! x